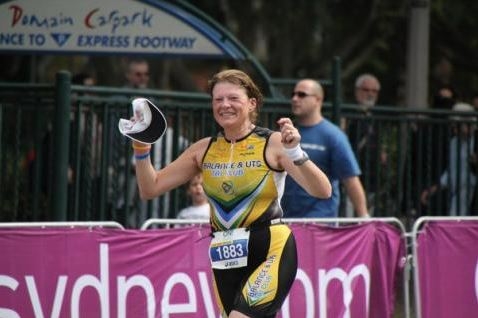 Grateful for what we have
When Tonia Wood is slogging it out on the triathlon course she has many reasons to keep going.
The 60-year-old's sister died from breast cancer at the age of 38. More recently she lost her husband Greg to motor neurone disease and then there's her sister-in-law who suffers from MS. Their memories swirl in her mind to spur her on as she competes.
"Remembering the pain that they went through and their condition and just the hard life that they had while dealing with their illnesses," she said, "it just makes me grateful that I can actually get out there and exercise.
"I'm healthy so far touch wood, they never gave up, never gave up hope, so I'm healthy – why would I give up?."
Tonia Wood has not quit since the day she completed her first triathlon in 2007. That was Triathlon Pink. Two years later she joined the UTS Balance and Tri club that she regularly trains with, many of the members have become close friends.
But it is the staggering amount she has raised for charity that impresses most.
Since 2007 she has raised about $40,000 for her pet charities including $32,000 for the National Breast Cancer Foundation. "I was really lucky," she said.
"I worked for an organisation with colleagues who had pretty good disposable incomes and were very generous in their support. Because they knew me and knew I was genuine they were intrigued by the fact I was doing triathlon and they would never dream of doing a triathlon in their wildest dreams so they were kind of blown away."
She also supports the Lynne King Cancer Care Foundation, NeuRa and MS Society.
"There's got to be a positive outcome," she said.
"Their lives have got to be celebrated in some way for me and my way of doing that is to use them as inspiration to fundraise for charities that were relevant to me." Her advice to others is to make your own opportunities.
"If there's a particular charity you are very passionate about then people respond to your goal, because it's a worthy goal. Give people as much information about your cause, your training, the race or event and keep them informed during your training.
"Keep reminding them there is still time to fundraise, even after the event. Ask your donors to pass your contact details on to anyone who might be interested in making a donation to your cause," she said.