Cerebral Palsy Alliance
For people living with cerebral palsy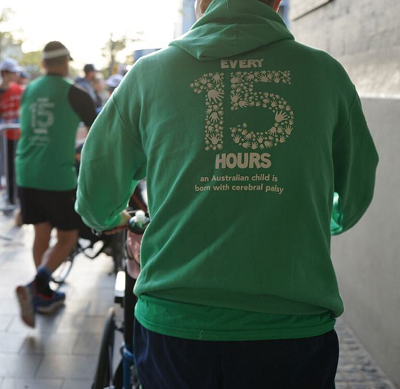 Cerebral Palsy Alliance provides family-centred therapies, life skills programs, equipment and support for people living with cerebral palsy. We believe every person living with cerebral palsy has the right to reach their full potential.
But these things are only possible with your support. The steps that you take will help more kids with cerebral palsy take theirs; or tell their parents that they love them for the first time using a communication device. And that's a beautiful thing.
Every dollar you raise will change lives
$85 will help provide a child with two hours of physiotherapy
$155 will help purchase a modified bike for a child with cerebral palsy to play with their friends
$500 will help purchase switch toys to build children's motor skills
$1,500 will help provide a customised wheelchair for a child with cerebral palsy
Cerebral palsy affects a person's ability to move. The condition is caused by damage done to the developing brain. It is a lifelong permanent disability with no known cure. Every 15 hours a child in Australia is born with cerebral palsy, making it the most common physical disability in childhood.
Take on the challenge and raise funds for Cerebral Palsy Alliance
In February this year, Joseph took on the biggest challenge of his life. He trained for six months to strengthen his legs and get fit in lead up to the challenge. He shared his story with his family and friends and asked for their support - raising funds so that other young people living with cerebral palsy could be given the same opportunity – to challenge themselves beyond their limits.
In February 2015, with his crutches in his hands and family and friends beside him, Joseph walked to top of Mt. Kosciusko, turned around and walked back. A nine hour journey, full of pain, determination, courage and pride.
Will your challenge be as tough?
Fundraising tips: You're doing an incredible thing, so show-off a bit!
Make a regular or one-off donation to yourself. It really encourages others to donate to your page.
Personalise your fundraising page: Upload a photo and tell people your story and why you're supporting Cerebral Palsy. What motivated you might inspire others!
Connect to Facebook - on average, people who post their fundraising page on Facebook raise three times more.
Send an email to everyone you know + send a few reminders, and include the link to your fundraising page.
For more information contact: Louise Reeson, Events and Community Fundraising Assistant – Cerebral Palsy Alliance | Email | web | Facebook | Twitter | Instagram | Linkedin