Bringing our community together
Each year we will be organising a challenge to bring together the community of triathletes and multi-sporters to fundraise for a lofty goal while taking part in a big challenge.
For 2015 and 2016, one of our community will be attempting to complete all 5 Long Distance Triathlon races across Australia and NZ. Along with athletes completing one of the five races as part of their own challenge, the aim is to raise $226,000 for the 226kms an Ironman or Challenge race takes to complete. The races to be complete are:
Ironman Western Australia (Dec 6, 2015),
Challenge Wanaka (Feb 20, 2016),
Ironman New Zealand (Mar 5, 2016),
Ironman Australia (May 1, 2016) and
Ironman Cairns (Jun 12, 2016)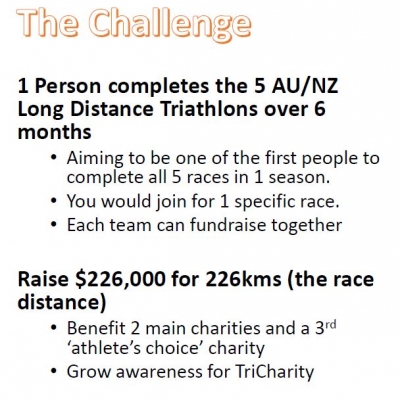 Our help supporting you
The money will be split among three charities: Can Too, TriCharity and the charity that the athlete chooses as their 3rd recipient.
You can apply to be involved as one of the fundraising athletes. By agreeing to fundraise $5,000, TriCharity and its partners will help you with support including:
Your own free race kit
Product discounts and support
Ambassadors from the charities for you to showcase the difference you're making
A team for each event to help with your fundraising
Race day support as one of the TriCharity team.
Fundraising support and knowledge to help you with your goal.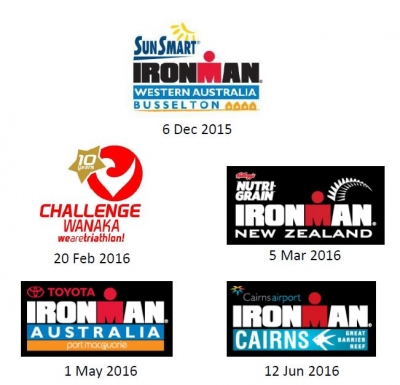 How to apply
To apply, simply tell TriCharity why you think you'd be a great member of the fundraising team.
Are you a 1st timer?
Corporate socialite who can provide all the connections?
A fundraising extraordinaire?
You have an inspiring story that would move people to help the cause?
A long time triathlete or multi-sporter who can help the team?
Apply with your story via email to geoff@tricharity.com.
We aim to let successful applicants for the 2016 races know by the start of December.