What do I have to do?
After registration, each TriCharity participant will receive an email to register and create their own personal fundraising page, where friends and family can go to make a secure online credit card donation toward your charity.
How do I get people to sponsor me?
Once you've logged into your fundraising page via your TriCharity Account on-line, you'll be able to 'Get Sponsors' and start sending emails to your contacts, asking them to support your challenge. The email will contain a link to your personal fundraising page where they can click to donate online - it's that easy!
Through your fundraising page, you'll be able to see which friends you've asked to sponsor you and also which ones have actually made a donation and/or left a message for you on your page. You'll be able to send them a nice thank you email straight from your fundraising account, letting them know the difference they've just made to your designated charity!
I don't feel comfortable asking my friends for money - is there something else I can do?
Don't like the idea of emailing your friends just to ask them for money? The important thing to remember is that the money being raised is for your chosen charity. You might be surprised how generous people can be when they find out about the amazing challenge you're taking to help raise money!
One technique we've found that works really well is to invite your friends to take up supporting the challenge with you! The more people we have participating, the more money we can raise! However, if they think it sounds too hard, ask them if they might consider making a donation to your effort instead. Host your own TriCharity fundraising event and give something back to your sponsors for their generous support!
How Long Will It Take For My Online Donation To Show On The Supporter Page?
This can take up to 30 minutes due to what's called 'caching'. We cache some part of our site to imrpve the speed of loading pages so you get a faster, better experience. The impact this has is that some content (such as donations) may take up to 30 minutes to show on the supporters page you made the donation to.
How Do I Add An Offline Donation To My Supporter Page?
After registering you will have access to your logged in Profile area. Within this area of the site click on 'My Sponsors' where you are able to add what we call an offline donation (a donation which you are able to record and come back to later to pay the funds).
It's a great way to keep track of any donations you may receive from friends and family who are unable to visit the website to donate directly to you.
Can I create an Event Page myself?
Yes you can, providing the triathlon event you are wanting to register for is not listed on our Events section. When you start typing your event to create, we'll prompt you to select from an existing event we have on file.
If the event we prompt you with is the one you'd like to register for, simply click it and get started. If you still don't see the event you're wanting to register for, simply create it yourself.
How do I find what I'm looking for? - searching the TriCharity Site
Sponsoring a Supporter – Simply type in the first name, last name or name of the team your friend is participating in. You can then link to their Supporter page to make a donation.
Finding an Event – type in the name of the event you are looking for and if they have loaded their details, you should find it. You can of course create your own event as well.
Searching for a Charity – you can find out more information about your favourite charity or cause by either looking alphabetically or by its name.
How do I get involved with TriCharity?
Good Question!
You can get involved by either:
Create a Fundraising page on tricharity.com
Help a friend make a difference by sponsoring them.
Share our TriCharity stories or fundraiser's pages on social media
Tell your triathlete and multi-sport friends about our site and how we donate our fees to charity.
While likes are great, know that by sponsoring a friend or by taking a fundraising challenge you are making a meaningful difference to our community. Plus you get to vote where the TriCharity gives its funds (more on that later).
How do I sign-up?
Just click on either the "Login" or "Donate" buttons and enter your information. It takes about a minute to sign up.
How does setting up a fundraising page work?
You can click on "Start Fundraising" on the Home Page and you can create your very own fundraising website in a couple of minutes.
Our site will dynamically and immediately create a new fundraising page with a unique url. Then the cause page sponsor sets their goal and timeframe and when the funds are ready to go, the funds will be transferred to the cause page sponsor's bank account. The key to being successful is the promotion of the donation page with its unique url which leads donors to the web page.
Are my donations tax-deductible?
In New Zealand they are and in Australia we are waiting for DGR (Deductible Gift Recipient) status to be confirmed. When it is, we will issue you your donation receipt and your donation is tax deductible.
What are our fees and how do they compare?
The one of the key objectives for TriCharity is to help ALL charities to raise more money for their operations. There are many ways to do this and one of the more obvious ones is the fees we charge for each person's fundraising page.
The solution was to create a simple system that everyone could understand - the charity, the fundraiser and the person donating.
Quite simply our fees are one of, if not the lowest in Australia and one of the lowest in New Zealand. They are also extremely transparent and we don't ask donors to pay the transaction fees - that's simply taking more money away from the charity.
Here's a quick comparison based on standard donation amounts using a Visa or Mastercard for payment.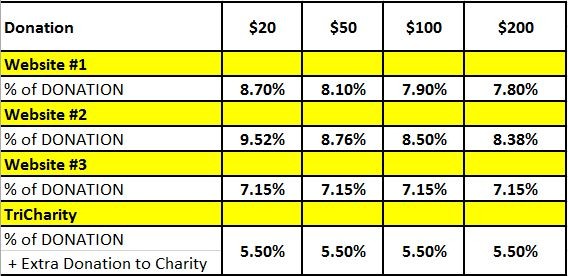 Yes, the TriCharity fees are significantly less, but we also provide these benefits:
A simple system for fundraisers to use
No extra charges for Amex (which increase the costs in the table above for other websites)
No fees for the charity to be on the website (Others charge up to $425 + GST per annum)
Part of our fee is donated to charitable projects, unlike the other 3 websites
We are small, but we're aiming to be a force for good for all the athletes in Australia and NZ. Because together we can make a difference.